Grady's Tiger Trek
CLICK HERE TO DONATE: DONATE ON BEHALF OF A GRADY STUDENT

Tiger Trek, Grady Elementary's 5th annual PTA Walkathon gives students the opportunity to raise money for their school and exercise!

Tiger Trek takes place Friday, November 17, 2017, during school hours

9:00 AM - 9:35 AM Pre-K, Pre-K ASD(Hensgen), ASD K/1 (Patton)
9:00 AM - 9:55 AM Kindergarten
10:00 AM - 10:55 AM 1st and 2nd grade
11:00 AM - 11:55 AM 3rd grade, ASD 1/2 (McAlister), ASD 3/4/5 (Eveland)
12:00 PM - 12:55 PM 4th and 5th grade

This PTA fundraiser will have no food to buy, magazines to order or catalogs to look through. 100% of the proceeds will go directly to Grady to benefit your children and our school.

Students, please ask your family members, friends and neighbors to support Grady by making donations towards their participation. Donors can donate online by clicking HERE: DONATE (this Cisco-certified secure site accepts all credit cards) or by cash or check collected in an envelope and returned to school by November 9. Please share this link via social media to encouraging your friends and family to participate.

Important: Thursday, November 9, 2017 is the Deadline to return the Donation Envelope or make a minimum $35 online donation if your child wants to wear their new Tiger Trek t-shirt for the walkathon. Tiger Trek shirts may be worn during all spirit days at school!
THANK YOU TO OUR TIGER TREK SPONSORS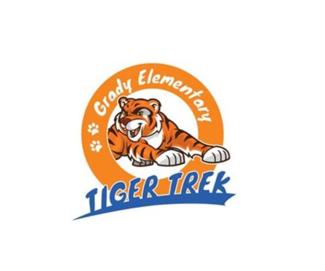 THANK YOU TO OUR TIGER PARTNER FAMILY SPONSORS
Leader of the Pack Level
Drs. Siviero & Heather Agazzi
Drs. Johnny & Julie Gibbs and Aiden Gibbs
HOUSE OF HUCKLEBERRY
The Lyons Family - Mike, Ellen, Frank & Nick
The Ruiz Family
Bengal Level
ROUSH Family
ZYSK Family
The Griffin Family - Drew, Jennifer, Roman & Cort
Cougar Level
de la GARZA Family
Kendell Family
Cub Level
Sanjiv Sahoo & Chhavi Gupta
The Angel Ortiz Family
The Hasnovi Family
The Ledford Family