Grady's Winter Concert Performed by The Grady Chorus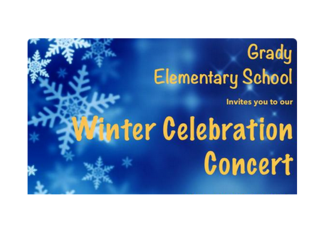 Grady Elementary Chorus presents the Winter Concert, Thursday, December 7, 2017, from 5:30 pm until 7:00 pm under the Pavilion. Grady's Chorus will perform classic holiday melodies.
The entire day has multiple events.
4:00 pm to 8:00 pm - Family Dinner Night at PDQ
From 5:00 pm to 5:45 pm, the Science Fair projects and Art Exhibit will be on display in the cafeteria.
At 5:00 pm, the bake sale begins. Please stop by for delicious treats. All proceeds benefit the fifth grade.
At 5:30 pm, there will be a general meeting of the PTA under the Pavilion.
At 6:00 pm, the Winter Concert begins!
For details and dress code, please click here for an important message from Mr. Florio about the Winter Concert.
To see pictures of a prior Winter Concerts: 2016 Winter Concert; Winter Concert, 2015. For questions about the Winter Concert, please contact Music Teacher Steve Florio at [email protected].
Set up chairs
Note: Fields marked with an * are required.